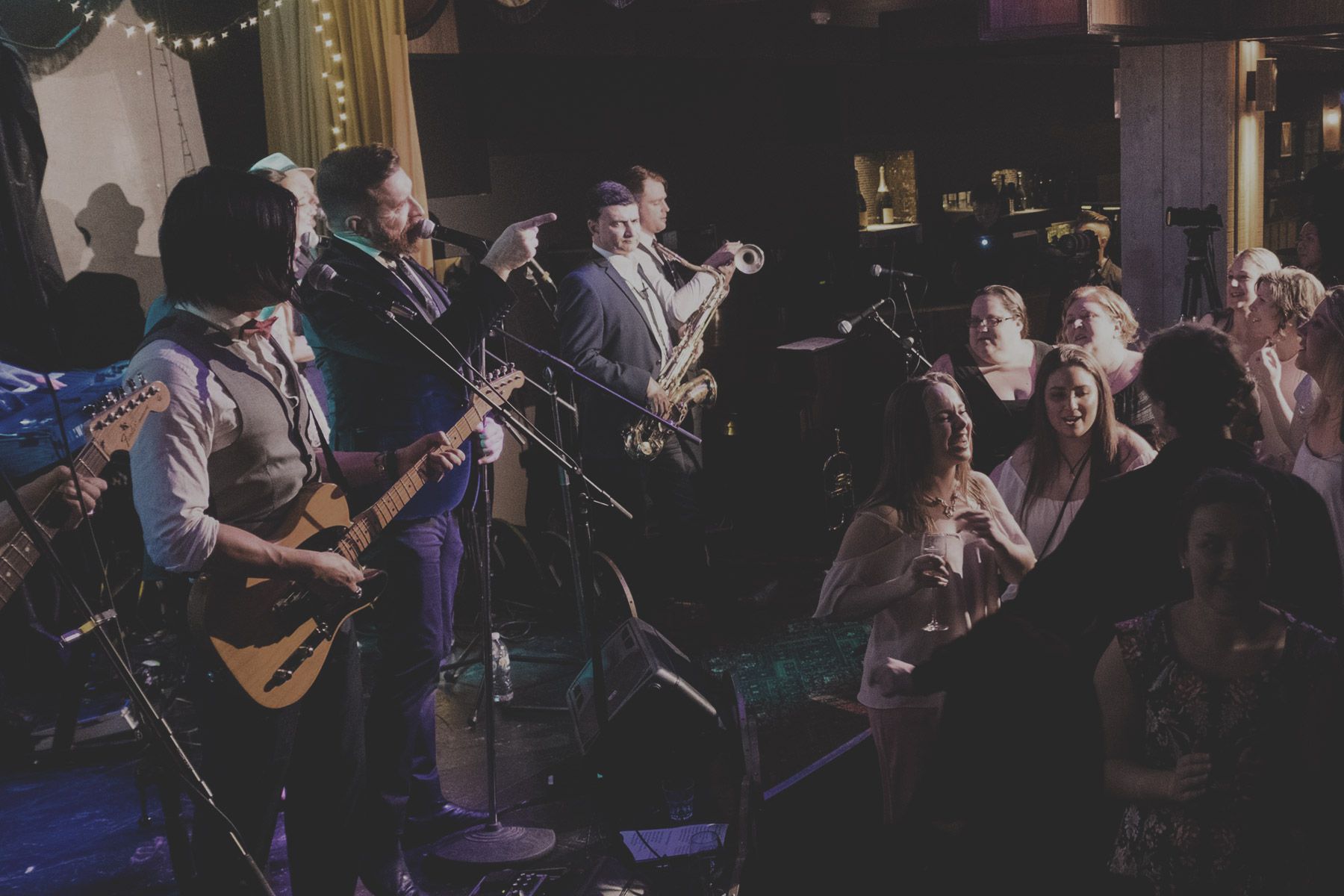 The right band can make your wedding; the wrong one can break it. Here's what you need to know before you decide…
Bands vs DJs? When it comes to choosing entertainment for your wedding, this is one of the biggest decisions that you will face. And, as with any big decision, this obviously requires some research. The internet can be a fantastic resource to help you make your decision – but it's also full of conflicting advice and opinions so it can easily drive you crazy!
The first thing I'd recommend is not getting too stuck on the band vs DJ debate. When choosing entertainment for your wedding, make sure that whichever choice you make is something you and your partner will enjoy.
The main reason the band vs DJ debate has gone on for so long is because most people see them as two totally different types of entertainment. You'd never book a rock band and a DJ for one event (well, most people wouldn't!), so they think that you can only choose one or the other.
It doesn't have to work like this. There is actually a lot of crossover when it comes to bands and DJs; there are great bands out there who also play amazing DJ sets (and vice versa), so why not book both? This way, you get the best of both worlds and can be sure that you're going to have a great night.
If you don't believe me, then let's look at the arguments for both bands and DJs, so that we can find out which is best for your wedding entertainment.
The band vs DJ debate: Which is right for my wedding?
For: The band
So, why choose a band? Well, first and foremost, you're going to get more people on the dance floor. Seriously! Bands know how to work a crowd and will be able to pull everyone onto the dance floor with their awesome sets and music choices.
Another great thing about live bands is that they always put on an amazing performance. So, if you want to add a few theatrical elements to your wedding entertainment, then why not take a look at bands, they will add something unique and personalized for your big day!
Last but not least, Melbourne wedding bands are so much fun and they know how to entertain the masses. They also have great range when it comes to their repertoire and you're sure to find the perfect song for your first dance as a married couple.
Music can make or break a wedding; it's that important! So, if you want to take the time and effort to look into hiring great entertainment then go with bands! You won't be sorry and they will help make the night so much more special.
There are so many things to think about when planning a wedding and entertainment can often be one of the most important ones! You want your guests to have an amazing time and that's exactly what they'll get with bands at weddings. It will certainly help set the mood for your big day especially if you opt for live bands.
For: The DJ
Having a dedicated Wedding DJ is usually the best bet because they have been trained to do this specific job. Professional DJs know how to keep people dancing, keep the flow going between songs, and even when not to play certain types of music which might offend part of your crowd.
Professional wedding DJ should be able to take requests and guide your guests along with everyone's musical taste. They will also give you options for first dances, entrance songs, special song dedications, etc.
Having a professional Wedding DJ at your wedding is not only important from the sound standpoint but from the emceeing point of view. An experienced, professional DJ knows how to get the party started and keep it going.
He will be able to direct the music so that the dance floor is always filled with dancers, he can tell jokes if you want him too, read your crowd during dinner so that the appropriate music is being played at all times. The vast majority of Wedding DJ 's will work closely with you and/or your wedding planner to ensure that the music is exactly as you desire.
A Wedding DJ will also help you plan a timeline for your reception, making sure that everything happens at the appropriate time so there are no lulls in entertainment.
Read more: