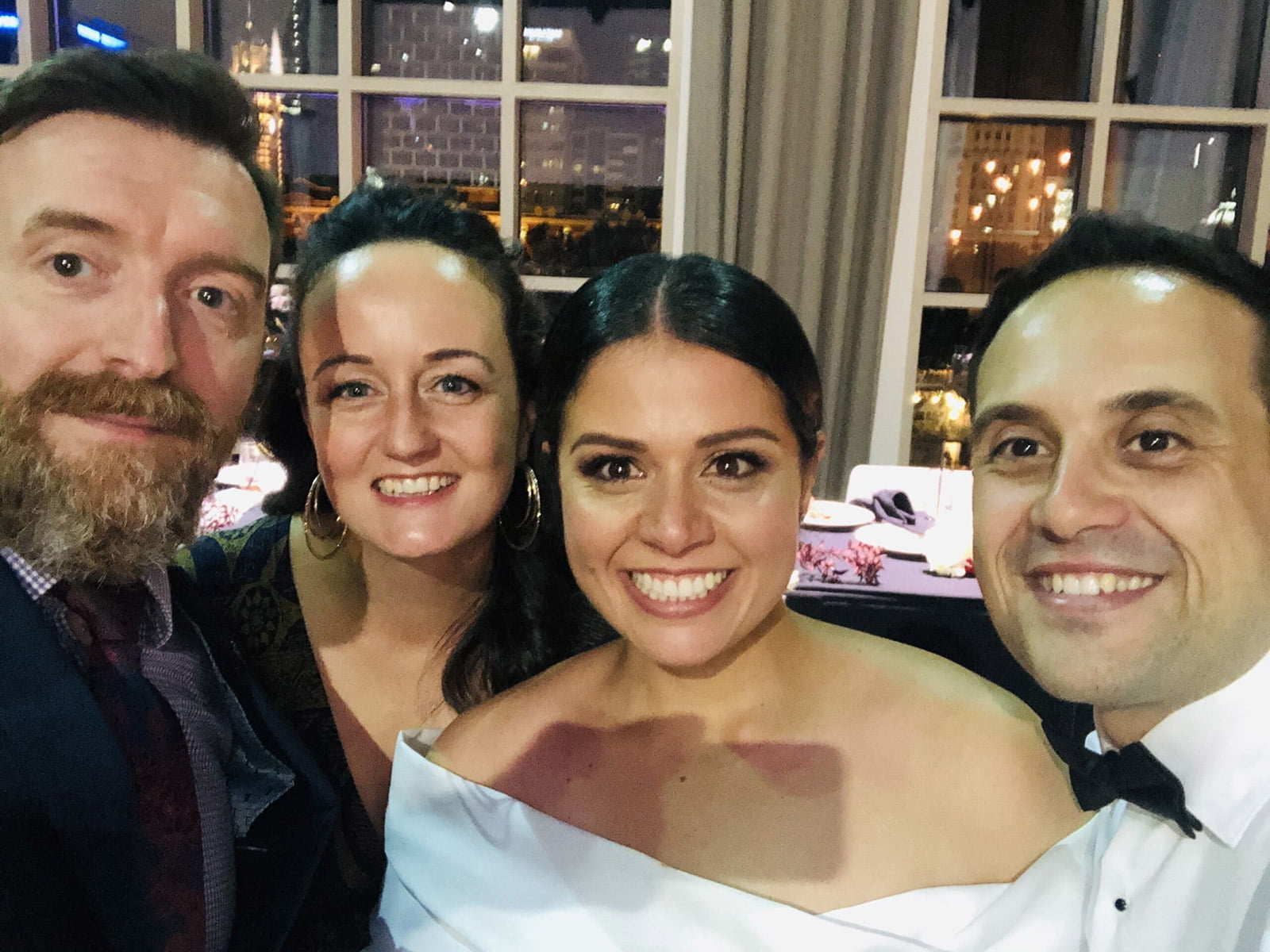 After an exhaustive search for the perfect venue during planning, Marco and Berta locked in Metropolis in Melbourne. Metropolis was the perfect size, perfect view and perfect location, for an epic wedding that very few of their guests would ever forget.
After a gorgeous ceremony offsite, guests arrived at 6:30pm to some live Piano and Saxophone. Cocktails and canapés were circulating and some live jazz created an elegant ambience for guests to mingle and await the grand entrance. Not long after, the nearly 300 guests were ushered in and found the bar and their seats.
For the entrance Marco and Berta wanted to surprise Berta's family with some traditional Assyrian live drums. They also organised an Assyrian Keys trio to perform alternating wedding band sets with Craig Francis Music for the evening. So they called upon the Assyrian keys trio to perform a song for the bridal party entrance and the live drums would lead out Marco and Berta. After some organisation by the fabulous staff at Metropolis and Craig Francis as MC, everything was all set.
The drums sounded after the MC announced the newlyweds and the entire crowd was out of their seats waving handkerchiefs in the air and joining in the fun around the couple and cake on the dance floor. Entrees were next and Craig Francis Music, the Metropolis with DJ and MC services, turned it on with a groovin jazz and soul set until the first set of speeches (video below). Some heartfelt and truly exceptional speeches and some stunning main meals followed and it was not long until things would kick up a notch for the party!
It was finally time for Marco and Berta to take start the party with their first dance leading into a traditional live Assyrian set. Both Marco and Berta wanted a mix of their Assyrian and Italian backgrounds and more modern styled live music. With the Assyrian music covered it was Craig Francis Music who took the reins on a traditional Italian Tarantella some Dean Martin (That's Amore!) and RnB and Pop party tunes.
Six sizzling sets later (alternating between Assyrian, Western and Italian) and a packed dance floor for 2 and half hours topped of the night. Everyone enjoyed the mix of music (See video below), had a ball and Marco and Berta had ensured that when a big wedding is done right everyone can be included and everyone will be sharing memories of the night for a long time!
Hi Craig

What can we say?! The feedback from everyone is overwhelmingly positive. You and your team made our night. Thank you for all your efforts. It was just brilliant. We're sure the chanting for "one more song" over and over again made all of it clear.

We also think we should be up for an acting gig after our first dance haha.

Thank you again. We just can't thank you enough.

Berta + Marco – March 2021